Renters insurance: is it worth it?
There are many types of insurance that people get to properly manage risks associated with living. Auto insurance, home owner's insurance, health insurance, and life insurance are a few common types of insurance. But what if you're renting a home or an apartment? Renters insurance is a perfect way to protect your personal belongings.
So, what are the main benefits of renters insurance?
1. Renters insurance protects your belongings
The main purpose of renters insurance is to safeguard your belongings in case of fire, theft, loss, or damage. In the event that something does happen to your personal belongings, renters insurance will reimburse you for that loss. Generally, the policy will have a maximum amount they can pay out on a particular item. Check with your insurance broker for a detailed policy coverage breakdown to ensure you are fully covered.
2. It's not crazy expensive
Seriously, it's one of the cheapest insurance policies out there. Renters insurance typically comes out to between $150 an $200 for the year but can be as low as $90 per year for the most basic coverage. (That's $7.50 per month!)
3. You can transfer it if you move
If you move while your policy is still valid, you are able to transfer it over to your new address. Plus, your belongings will be covered for the move! Just be aware that your rates may change slightly when you move, due to being in a different location.
4. Most policies will cover computers!
This means if your screen dies or you need to replace that $1500 computer, you should be covered. Just check your policy or talk to your insurance agent to make sure this is included.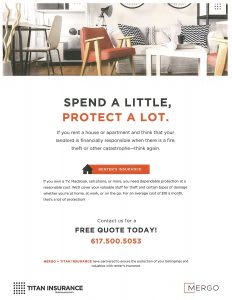 Renter's insurance may seem like an additional cost, but it can (and likely will) save you money in the long run. If something were to happen to your belongings and you did not have any coverage, it would end up costing you more. And while we just explained how renters insurance will generally cover your belongings from theft, damage, and loss — depending on your policy, it can cover more even more. (Even things that happen outside of your house!)
Our advice? Ask your auto insurance carrier to give you a quote with a coverage breakdown. We recommend Titan Insurance. Titan is an independent insurance brokerage located on Boylston St in Boston, and they provide great service and competitive pricing. You can visit them at www.titaninsured.com